ADJUSTING TIRE PRESSURE

SEVERAL SETTING OPTIONS

ANY KIND OF TERRAIN
Raytech's Central Tire Inflation System technology
Raytech's Central Tire Inflation System (CTIS) technology maximizes vehicle mobility by adjusting tire pressure to any terrain. Raytech's CTIS allows users to adjust tire pressure to the ideal level based on vehicle load, terrain type and usage. The pressure in each tire is controlled regardless of the vehicle load and terrain (e.g., mud, sand, snow, swamp, etc.).
Whether on paved roads or rough terrain, Raytech's CTIS technology increases maneuverability, preserves tires and reduces fuel consumption while significantly lowering operating costs. In addition, Raytech's CTIS reduces interruptions associated with tire malfunctions, such as minor punctures, leaks or even getting stuck in mud.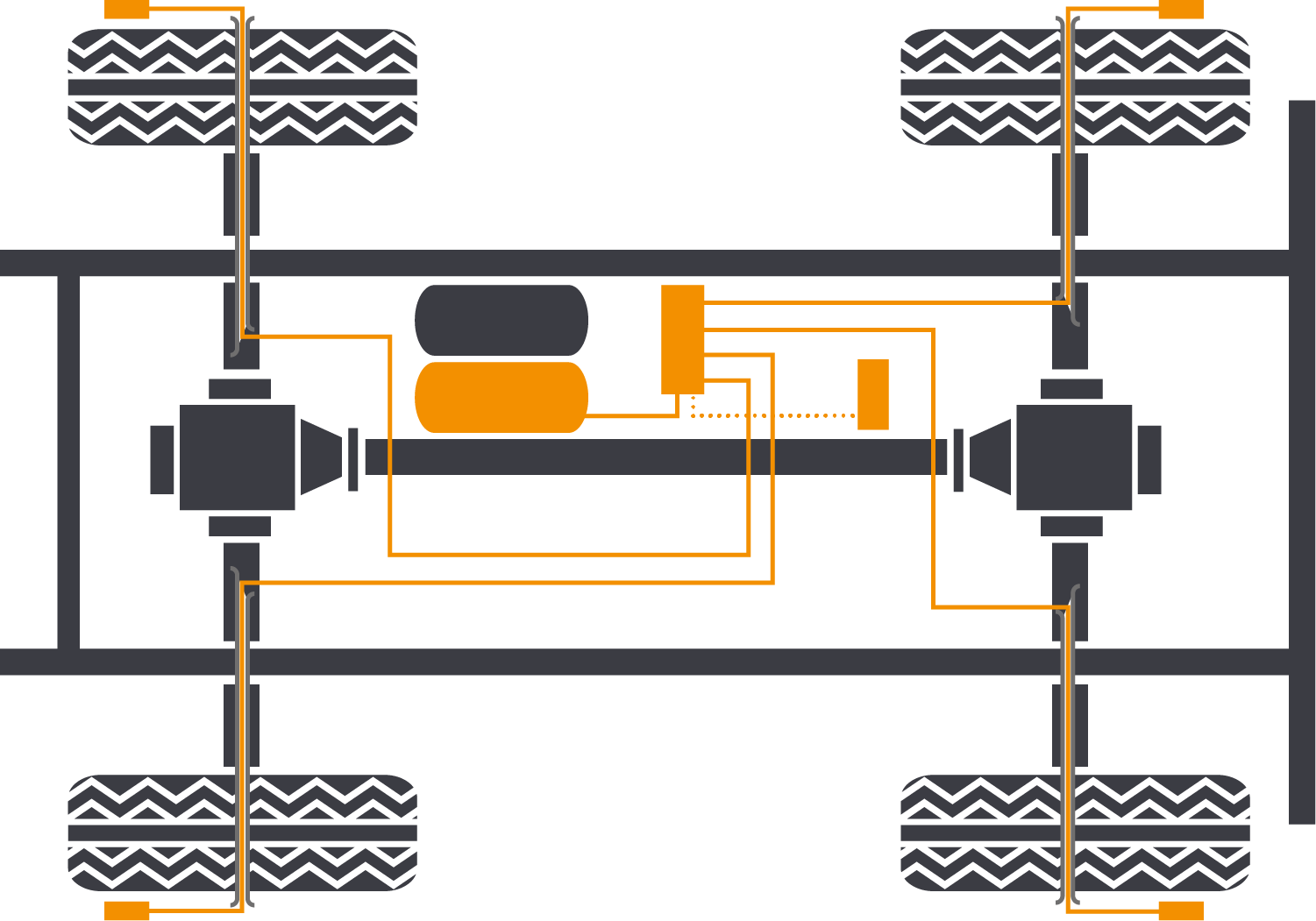 The display is mounted on the instrument panel in an easily accessible format for the driver. The driver can adjust the display as needed.
The monitoring of the set value comes automatically through the CTIS system.
Upon request, a speed trap can be integrated.
It is also possible to integrate this display directly into the existing dashboard.

2
Clean
Clean function for wheel valves
3
Emerg
Inflation Setup for emergency case
4
Street
Inflation setup for driving on streets
5
Off Road
Inflation setup for driving off roads
6
Sand

Inflation setup for driving on sand
7
Display

Display with programmed standard functions: Selected Terrain (Street/Off-Road/Sand),
Tire Pressure for the selected terrain; Overspeed– Control
The Pneumatic Control Unit sends information to the display and controls the
tire pressure according to individual set up.
Latest communication standards
The tire valve seals the air pressure in the tire and prevents leakage allowing the system to stay pressureless while driving.
By pumping compressed air into the tire valve, the sealing opens automatically and enables inflation.
Most certainly it is also possible to decrease the tire pressure. Via the PCU a negative pressure can
be applied, so the sealing of wheel valve opens and releases the air directly into the environment.
CTIS Wheel Valves functionality
The PCU pumps air into the Wheel Valves, which opens the inner valve under pressure and inflates the tire.
As soon as the desired tire pressure is reached, the PCU releases the overpressure and the valve closes automatically. As a result, the system is depressurized during operation.
For venting, the unit applies a negative pressure. This pulls the piston down and opens the inner valve.
The compressed air can be discharged immediately into the environment.
Raytech's CTIS Unique Competitive Advantages
Variable adjustment range without limitations between 0.5 – 12.0 bar
Safety through our pressure-less system between compressor and valves in driving mode
Additional Safety feature through innovative valves with piston instead of membranes
NO FATIGUE FAILURES OR BURSTING OF MEMBRANES